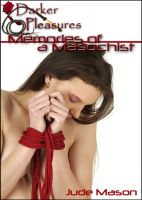 Memories of a Masochist
Ebook By Jude Mason
Published by,

Darker Pleasures




Published: Sep. 03, 2011




Category:

Fiction, erotica, BDSM, fetish
Kitten was nineteen when her father married her off to an older man. Tom was almost thirty, but he was good and strong, and taught her everythings she knew about love...and about the wonderful things he could do to her with just the right amount of pain.
Each year that passed was better than the first, their adventures in his dungeon filled with experiments in bondage and erotic torment. She loved being his Kitten, his masochist. And as the years went on, she loved the memories almost as much as making them.